Everything was fine that day. Zoya has accepted his proposal, his ever so shy brother also proposed to his love. Everything looked perfect but there is something amiss which Asad couldnt configure.
He brushed these thoughts thinking it to be his over imagination.
Suddenly the calm and serene surrounding was filled with a painful shrill making Asad to shiver. That voice belonged to Armaan but he didn't turn towards the direction of the voice as he isn't having strength to face it.
'It must be my imagination. If I wont turn it would pass away.' Asad thought to himself. But fate is not in his hands today. The sound became more loud and close which made him to run.
Armaan was dragging himself covered with blood drenched clothes towards Asad. His nose was bleeding while the fore head formed a dent. Some one must have hit him brutally.
The thought itself made Asad to burn in rage and smash the person who caused this position to his beloved brother. But Alas! He was unable to move an inch seeing him like this.
He still didn't realise that he became numb seeing his mirror image battling life and death in front of his eyes.
Zoya was already beside Armaan trying to tend him. She looked for Asad to help who was looking lost and rooted to the spot.
"Asad! Asad! Come soon his chest and stomach are punctured. We need to take him to the hospital." Zoya screamed making him to flinch as the harsh reality struck him.

"Arm..aaan… bhai…." Asad ran towards him with unsure steps and fell beside him.
"Dont worry bhai you'll be okay. Hospital is very near …… you'll be okay." Asad said to himself more than to Armaan and tried to pick him in his arms but Armaan stopped him.
"Asad … The knife already stabbed me in my heart, i CAN FEEL IT. I don't have much time….Asad SAVE HER PLEASE…." Armaan moaned in pain while giving Asad a chain with locket.
"Sorry Asad I couldn't take care of this." He kept the chain in Asad palm and held his heart with pain stricken face.

FLASHBACK
"Bhai, I bought two chains for us. It has A&A Letter engraved on it which stands for Armaan and Asad. Here wear it." Asad chirped.
"And May I ask why?" Armaan asked with a smirk.
"Oho What do you mean by why? Because to remind you that we will be together every time and everywhere. So one chain for you and one chain for me. Isnt it filmy like Karan Arjun etc." Asad laughed.
"My dear brother why don't you say you are JEALOUS of Ridhimma huh?" Armaan raised his eyebrow.
"What? Are you serious? Why would I be jealous of that Aunty." Asad pretended.
"Really Asad?"
"Okay fine im jealous of her because you started spending more time with her than me. I know you will soon forget me too." Asad addaed a dramatic touch to it.
"Hahhaahha …. Seriously Asad. You are thinking like this. Okay I'm wearing this chain like you, now happy." He wore it and took Asad into his Arms.
"Ye dosthi…. hum nahi chodenge… hahaha" Both the brothers sang and laughed out loud.
FLASHBACK ENDS
"Bhai.. don't talk nonsense. Get up." Asad said to a lifeless Armaan in his Arms. He knew it. Armaan has left his last breath but still him being a stubborn kid couldn't accept the reality.
"Bhai… now stop playing. Get up now or else…… or else bhai please get up ….. I need you .bhai…" Asad started wailing and punching him to wake up.
Zoya couldn't control her tears seeing the scene in front of her. But suddenly she remembered something.
"Asad … The knife already stabbed me in my heart, i CAN FEEL IT. I don't have much time….Asad SAVE HER PLEASE…." Armaan moaned in pain while giving Asad a chain with locket.
"Oh my God! Ridhimma? Asad where is she?" Zoya covered her face with shock.
It then crossed Asad that Ridhimma is missing. He totally forgot about her.
"Okay bhai. So you are not listening to me na. I'll bring Ridhimma to you. Listen to her and wake up okay." Asad said and stood up to search Ridhimma.
'Armaan was already dead. I can't leave Asad alone.' Zoya thought to herself and started walking with Asad.
"Zoya, what are you doing here? Armaan is alone there. Go and stay with him. Till then I'll bring Ridhimma." Asad still believing Armaan to be alive.
"Asad, please …. ill come with…" Her sentence was left in the middle seeing a brutal scene in front of her." Asad look there."
A man wearing a hoodie was stabbing Ridhimma with a knife continuously. His face and entire body was covered except for his wrists and eyes.

"Hey!" Asad screamed at that person and held his hand when he was about to run.
That mask man tried to stab Asad but he bend down causing the knife to slash in air. Asad noticed a tattoo on his wrist while bending. Before he could make any move that mask man ran away leaving him with a wailing Zoya.
"Asad….. Ridhimma is no more. She is dead.' Zoya wailed.
Ridhima's body was also punctured like Armaan's the only difference is her body has smaller punctures comparing to Armaan.
"AAAH…… aah ahha…" Asad screamed loudly not knowing what to do.
Everything was perfect till an hour then what has happened that their lives turned 360 degrees.
MORNING HOURS, NEXT DAY
Asad there looking numb at his parents wailing on Armaan and Ridhimma dead body. Khushi and Zoya are standing near his parents and consoling them.
Seeing Asad not crying, every one thought him to be strong person but he is anything than that.
He was broken crumbled and shattered. The tears and emotions are long back died. The deep pit of numbness is swallowing him slowly. He felt nothing. Nothing more.
TWO DAYS LATER
Their house is no longer the same. It was empty. Priya became too weak that a home nurse was appointed and Zoya being a doctor gave her occasional visits. In the pretense of Priya she used to sit with Asad.
Ram became a workaholic more than before. He became aloof. Though he is working 24×7 Asad understood that he must be crying inside.
As usually Zoya sat beside him giving him support silently.
"I killed my brother. I killed Ridhimma." Asad these words after two days of being him numb which shook Zoya.
"I couldn't save him. He asked me to save ridhimma at least but I didn't. I failed." Asad said caressing the locket which has A&A.
"Asad you didn't. According to the reports, Ridhimma was dead before an hour. She was dead even before Armaan came to us. The mask man was just stabbing a dead body." Zoya informed.
"What?" Now this is  news for him. "Why would a person stab with such a force even after death. Zoya do you know anything else?" Asad asked her with hope.
"Nope. I'm just a Junior doctor and I'm not allowed to do all this. I got this information as my cabin was alloted near the mortuary and I overheard the Sr Doctors speaking." Zoya stated.
"There is something missing. I don't understand…. I…………….Wait. Zoya do you remember the place where Ridhimma dead body was found?" Asad asked having something in his mind.
"Yes, I remember. But….. Oh my God. Asad its the same area where we had a fight with the local goon." Zoya covered her mouth with shock.
"Exactly! That scumbag must have killed Armaan thinking it to be me and as Ridhimma was beside him that goon killed her too. I swear Im not going to leave him." Asad said and dashed towards his washroom.
He took his shower and wore his clothes. And while gelling his hair he looked at his reflection which was a xerox copy of ARMAAN. absent-mindedly, Asad trimmed his beard, wore a formal clothes tucking them neatly and gelled his hair which was quite opposite to him.
The reflection in the mirror made him feel complete. As he felt like seeing his brother in front of him. He felt suffocated thinking that Armaan is no more. His heart is being squeezed with a clawed weapon of pain until he felt breathless.
He coughed and touched his reflection. A tear trailed on his cheek which he immediately brushed off.
"I will not cry now. Let the pain be with me. This pain in my heart will give me strength to punish the criminal. I swear each and every person responsible for their death would pay. I will hunt them even if they are hiding in the corner of the world." Asad swore to his reflection.
That moment a fun-loving man died. A naughty child who would make sure his parents are irked with his mischief was dead. A passionate lover died. He was dead.
And then from the ashes a brother who is hunting justice, who is in thirst of vengeance was born.. A destroyer was born.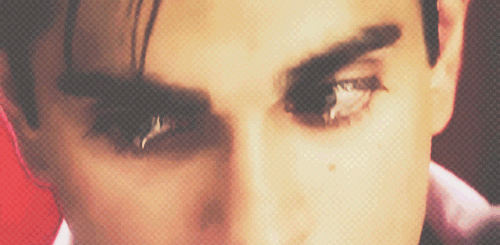 PRECAP
Asad and zoya hunting for the criminals.